Inter Milan is a prominent name in the football world and one of the most successful football teams in the history of the sport. With 18 Serie A, seven Coppa Italia and five Supercoppa titles, as well as three Champions League titles, Inter Milan has a very successful and rich history behind them, which saw them reach the summit of the football world.  
Over the course of their illustrious history, Inter Milan fielded many world-class players, some of which have established themselves as football legends. Here we will look at 10 greatest Inter Milan players of all time, who one way or another left a mark in the football world.
10 Best Inter Milan Players Ever
10. Samuel Eto'o (2009-2011)
Samuel Eto'o's time with Inter Milan was rather brief but long enough for the Cameroonian striker to establish himself as one of Nerazzurri's legends.
Eto'o arrived at inter Milan in 2009 after spending his last five years with Barcelona and did not need long to find his place at his new home. In 101 matches for Inter Milan, Eto'o scored 53 goals and helped lead Inter to 2010 treble. In the 2010/2011 season, Eto'o's contributions were even more notable, given that Diego Milito seemingly lost his goalscoring form although Inter failed to see the same success as in the previous season.
His departure to Russia is still to date a huge mystery as no one exactly knows what ushered him to leave Inter Milan, which raises the question of what could he achieve should he stay in Italy just a bit longer.
9. Zlatan Ibrahimovic (2006-2009)
Zlatan Ibrahimovic has had many stops in his 20-year-long career and always managed to leave a mark in all squads he played in – and Inter Milan is no exception.
Ibrahimovic joined Inter Milan in 2006, following his exodus from Juventus due to the Calciopoli scandal. On his debut with inter, Ibrahimovic scored a goal and added an assist, instantly letting everyone know he will play a pivotal role in his new team – and he did just that. He finished the season as Inter's top scorer and helped his squad hoist the Serie A title with 97 points. Ibrahimovic also led Inter to three Scudetti during his time at the team and scored 66 goals in 116 matches. In 2009, Ibrahimovic left for Barcelona in a swap deal for Eto'o.
8. Julio Cesar (2005-2012)
Julio Cesar guarded Inter's goal throughout the team's most successful peroid. He was Inter's best goalkeeper for Nerazzutti's five straight Serie A titles from 2005/06 to 2009/10, as well as three Coppa Italia titles, Champions League and Club World Cup titles in Inter's 2010 treble.
Despite his illustrious career, the Brazillian's shining moment came in 2009/10 Champions League campaign, where Cesar allowed only three goals throughout Inter's knockout stage, which included holding Barcelona to only two goals over two legs in the semi-finals. At the height of his career, Cesar was considered one of the best goalkeepers in the world, right beside Iker Casillas and Gigi Buffon. Unfortunately, injuries took a toll on his performances over the years, which ushered his departure to QPR in 2012. Despite that, Julio Cesar will always be remembered as one of Inter's legends.
7. Alessandro Altobelli (1977-1988)
Throughout his 11-year-long career with Inter Alessandro Altobelli scored 209 goals for his club. period him one of the best Inter's goalscorer in history. He contributed to Inter's Scudetto win in the 1979/80 season and two Coppa Italia titles in 1977/78 and 1981/82.
6. Ivan Cordoba (2000-2012)
The Columbian defender enjoyed a rather long stay with Inter Milan, which ended in 2012 when he announced retirement. Cordoba was the fan favourite at San Siro and played a pivotal role in Inter's fantastic defence, which allowed them to clinch the historic Treble in 2010.
Throughout his career, Cordoba played 455 matches for Inter, which is 10th most of all time and will always be remembered for his effective pairing with Marco Materazzi during the height of Inter's title run. Cordoba also scored 18 goals in his 13-year-long career with Inter.
5. Christian Vieri (1999-2005)
Christian Vieri failed to find a permanent home throughout his successful career, as he played for a total of 13 teams throughout his senior career, however, his stay at Inter was longer than with any other club and not only was it his longest stay at one team, but also an incredibly successful one. 
In 190 matches for Inter, Vieri scored 123 goals, meaning he scored 0.65 goals per hame over six years. Unfortunately, his injury in 2002/03 Champions League quarter-finals against Valencia seriously sapped his effectiveness from then onward. As a pure centre forward, Vieri still holds the record for the most headed goals in the history of Serie A.
4. Luis Suarez (1961-1970)
No, we are not talking about that Luis Suarez, but the "original" Luis Suarez, who was a Spaniard. He gained prominence in Barcelona as a striker, and in 1961 followed Helenio Herrera to Inter, after the Argentinian coach had a falling out with the Spanish club and left for Italy.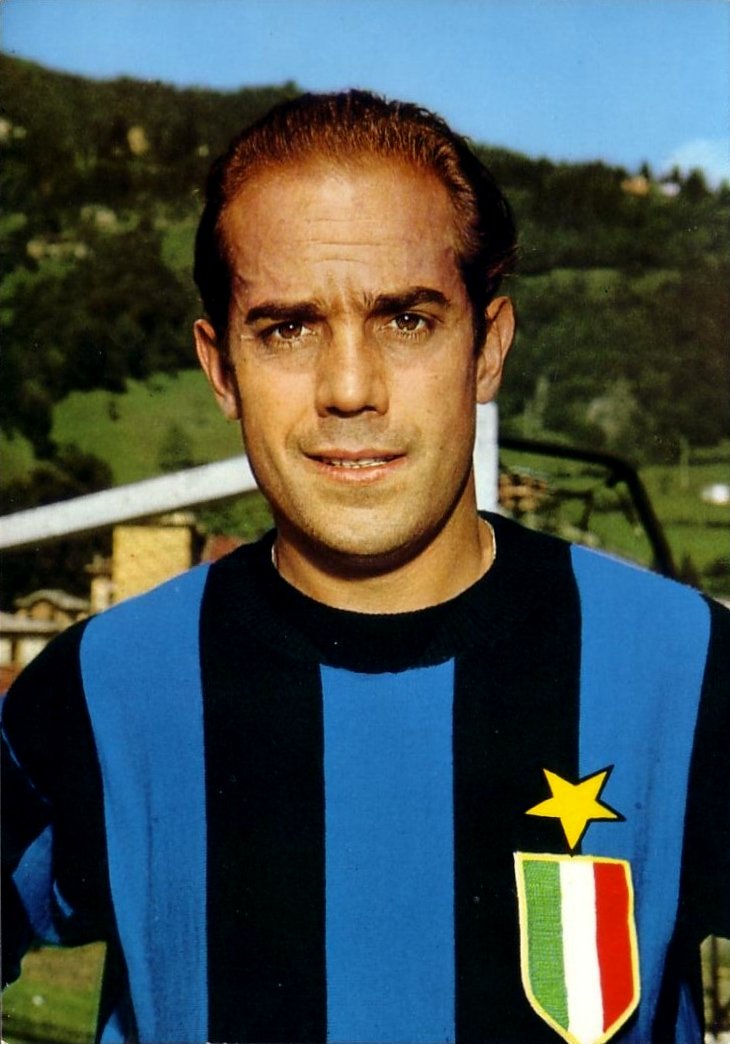 Luis Suarez arrived at Inter for 250 million lira, which was the most expensive transfer in football history at the time, but it would be fair to say he was worth every penny. He helped Inter claim three Scudetti, back-to-back European Cups and two Intercontinental Cups. In 328 appearances, he scored 55 goals and won the Silver Ball in 1961, 1964 and the Bronze Ball in 1965.
3. Giacinto Facchetti (1960-1978)
Arguably one of the best left-backs in history, Giacinto Facchetti arrived at Inter in 1960 and remained at the club for 18 years. He played 634 games for Inter (third-most of all time) and scored 75 goals, which is a remarkable number for a defender.
While a remarkable player, Facchetti was renowned for his goal-scoring prowess and his fair-play, as he was only sent off once throughout his whole career – and even that for sarcastically applauding a referee for a controversial call. Facchetti helped Inter win four Scudetti, two European Cups, one Coppa Italia and two Intercontinental Cups.
2. Giuseppe Meazza (1927-1940, 1946-1947)
When the club's home stadium is named by one of their players, you can be sure, the player in question had a massive impact on the team throughout his stay.
Interestingly enough, Meazza was supposed to play for AC Milan but was rejected for being too skinny. That was arguably one of the biggest mistakes AC Milan have made in their long history and one that won't be easily forgotten. At the start of his career at Inter, Meazza was a defender, but the coach quickly moved him to the front, and Meazza became one of the best strikers Italy has ever seen. In his debut season, Meazza scored 31 goals and is one of the top scorers in the history of the national team and is still the leading goalscorer in Inter's history – with 288 goals to his name.
1. Javier Zanetti (1995-2014)
Javier Zanetti is arguably one of the best football players that ever lived and a true living legend of Inter Milan. As a one-team-man, Zanetti made a grand total of 860 appearances for Inter and only decided to retire at the age of 43.
Despite being a right-back, Zanetti scored 21 goals and added 16 assists to his team. Under his captaincy, Inter won 16 trophies, which includes 1998 UEFA Cup, five straight Scudetti, four Coppa Italia titles, four Supercoppa Italiana, 2010 Champions League title and the ensuing Club World Cup.
Upon his retirement, Inter Milan retired his number 4 jersey and named him as the vice president. He has also been named as the ambassador for the SOS Children's Villages project in Argentina by FIFA and in 2005, he received Ambrogino d'Oro award from the city of Milan. Zanetti is also a Global Ambassador for the Special Olympics.
Sports journalist, content writer and passionate football lover.